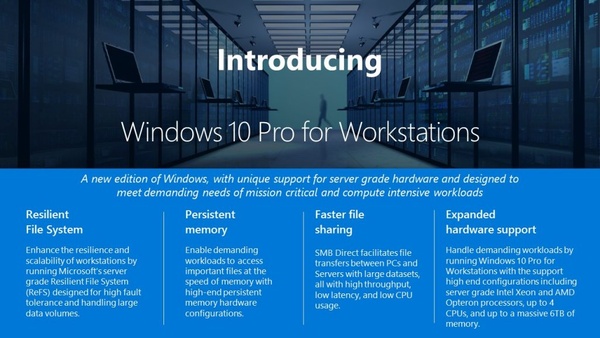 Microsoft has announced a new edition of Windows 10, aimed for power users. The new version, Windows 10 Pro for Workstations has four major selling points over existing editions.
Firstly, there is ReFS (Resilient file system), a file system that provides cloud-grade resiliency for data on fault-tolerant storage spaces and manages very large volumes with ease. Using its integrity streams, ReFS detects when data becomes corrupt on one of the mirrored drives and uses a healthy copy of your data on the other drive to correct and protect your precious data.

Second major selling point is the support for NVDIMM-N memories that allow super-fast read and write times - and are non-volatile, meaning that the memory keeps the data even when the power is switched off.

Thirdly, Windows 10 Pro for Workstations adds a new, faster mechanism for sharing files called SMB Direct, which promises to improve speeds of sharing large files. SMB Direct requires network adapters to support Remote Direct Memory Access (RDMA). It will reduce the load sharing the files puts on CPU and moves that load to the network adapter instead, resulting faster sharing and lower latency.



Finally, the new Windows edition adds support for server-grade CPUs, like Intel Xeon and AMD's Opteron series, allowing the operating system to utilize all the horsepower in such CPUs. This means support for up to 4 CPUs (currently max of 2 CPUs is supported) and support for 6TB of memory (current limit is 2TB).