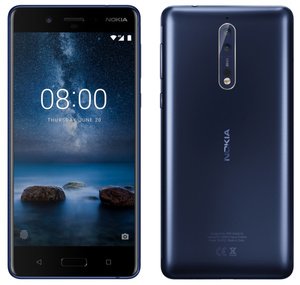 HMD Global
who currently has the rights to use iconic
Nokia
brand in its phones, released its latest Android flagship phone just moments ago.
New Nokia 8 is a direct challenger to other Android-based flagship models in the market and is priced accordingly - and packs pretty familiar features, too.

Nokia 8 has a heatpipe-cooled Snapdragon 835 chipset, 4GB of RAM memory and a 5.3-inch QHD (2560 x 1440px) Gorilla Glass 3 display. It ships with 64GB of internal storage which can be expanded with microSD memory cards.

According to HMD, the phone is meant for "content producers" - not meaning people who write blogs for living, but people who use social media actively and post lot of a/v content to net. This means that HMD has made an extra effort to make sure all the audio and video features of the phone are on par with the top models in the market.

Both, front and rear camera can record video and capture still images at the same time without video recording suffering from this. Both cameras can be operated at the same time and can be viewed on screen simultaneously. To enhance the "multi-dimensional" video recording, Nokia 8 also supports Nokia OZO surround audio recording.



Rear camera is a dual 13Mpix camera - the other one capturing black and white spectre and other one capturing colors, a similar solution to the one Huawei has used in its recent flagship models. Furthermore, the front camera has a 13Mpix sensor.

Estimated global pricing is set at around €559 / $658. Availability should be "soon", but HMD didn't reveal exact dates. HMD's current phones have been praised for their "almost vanilla" Android and snappy operating system updates.