OECD released a report recently that lists various digital trends across the globe. One of the interesting points was the usage of mobile data and number in various countries.
While some Asian countries have high profile in terms of their mobile internet usage, one Western country tops them all - by wide margin:
Finland
.
In Finland, average mobile data consumption is a whopping 11 gigabytes per month, while the next country in the list, Latvia, uses 9GB per month. For comparison, U.S. users consume 2.7GB data each month and UK users only 1.8GB.
The massive data consumption in Nordic country is simply due the country's extremely cheap and literally uncapped mobile data plans - an uncapped, unmetered 4G package, with no restrictions, costs about 20 euros
(appx $24)
. As the data caps don't apply at all, usage of WiFi is deemed unnecessary by most people and all the Netflix viewing, Facebook browsing and app updating is done via mobile data - even at own home, where most people have fixed-line net connection with WiFi available.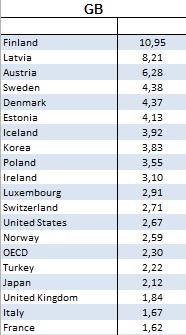 Mobile data consumption per capita
The OECD data is about "per SIM card" data consumption and Finland is also the #2 country in terms of "mobile subscriptions per capita", just after Japan. In Finland, average person has 1.4 mobile connections. Thus, each person in Finland, on average, consumes about 15 gigabytes of mobile data each and every month.
OECD's raw statistics data is accessible through
this link
.