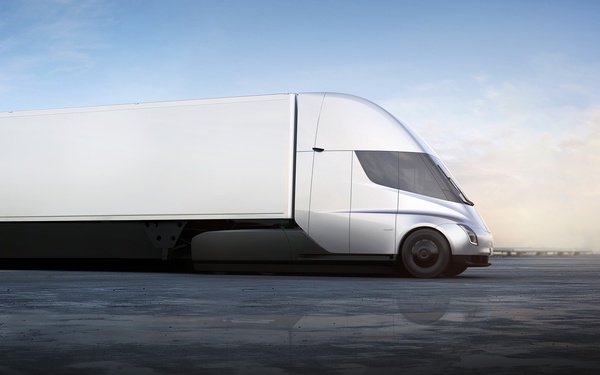 Tesla has today announced two new vehicle prototypes that will bring the total number of Tesla cars, and now trucks, to six. As expected Tesla unveiled their "beastly" semi-truck the first time but not many expected a refresh to its first car, the Roadster.
With the semi-truck Tesla moves to a completely different market. Previously the company has been competing against specific small to mid-sized cars, and before the Model 3 even the production volumes have been rather low. Now the company has a new type of challenge.
According to all the specs and Elon Musk's price calculations everything seems promising, but you have to take into account that the company has never made a product even close to what they are attempting here. However, if everything goes according to the plan the first Tesla semis should hit the roads in 2019.
Now to the specs. According to Elon Musk, the Tesla semi destroys current semi-trucks in speed and acceleration both with cargo and without. Even with full load it gets to 60 mph in just 20 seconds.
Even better, Tesla semi is said to have up to 500 mile range (300 or 500 on the website), and cap top up the batteries with a supercharger in 30 minutes. The range is also calculated at full load and at highway speeds.
Tesla did not exactly reveal how much a Tesla semi would cost but he did have some graphs suggesting that cost per mile would be roughly 20 percent cheaper than a traditional semi from day one. Website claims $200 000 fuel savings, which we assume is over lifetime of the vehicle.
Musk did touch on some other interesting points though. That includes brakes "basically lasting forever", independent wheel drive which protects against jackknifing, million miles no breakdown guarantee, autopilot on all Tesla semis, thermonuclear explosion proof windshield glass, and of course Tesla app for controls and remote diagnostics.
The second car, Tesla's one more things if you will, was a refresh to their first car. The small sports car, Roadster, is getting updated in 2020, and it's
fast
. So fast in fact, that according to Musk, it will be the fastest production car ever. He promised a crazy 1.9 second 0 to 60 time, and said it will do a quarter mile in 8.9 seconds.
Roadster's top speed is above 250 mph, has a 200 kWh battery pack (for comparison the largest on Model S has half of that) providing 620 mile range, as well as three motors with all wheel drive and 10 000 nm torque. Unfortunately no price details as of this moment.