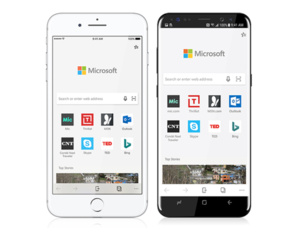 After years and years of development as a part of the Windows 10 ecosystem, Windows 10 Mobile never managed to grow into a proper business. All the bets Microsoft made with Windows 10 Mobile and buying smartphone business from Nokia failed.
After acknowledging that there is no future for Windows 10 smartphones, Microsoft has been focusing heavily on producing better Android and iOS apps. Many of its core software obviously are already on both platforms, including the Office suite and even Cortana, but now Microsoft has added another one to both iOS and Android.

Microsoft has just released their browser, Microsoft Edge, on both Android and iOS. Edge is, of course, the browser that comes with Windows 10 and replaced Internet Explorer, or IE, as the main browser on the platform.

The idea behind this is of course that people that are familiar with the Edge on desktop will start using it on their phones. Maybe a few will even discover it via the mobile version.

After a couple months of beta testing, the app is now available for all to download, so head to Play Store or App Store if you'd like to try out Microsoft's browser offering on your smartphone.