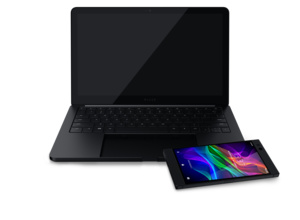 For years manufacturers have tried to bridge the gap between a smartphone and a computer by introducing proprietary docking technologies. You might remember Microsoft's effort with Windows 10 phones and computers or Samsung's DeX with their Android phones.
Obviously there have been others, and there will be more that try to breath life into a fantasy many of us are looking forwards to. The newest addition to the group is the gaming focused manufacturer Razer, who've shown off their concept at CES.
Razer's Project Linda is still, as mentioned, just a concept, but it is a seemingly well built and largely market-ready product. It's a Razer Blade-like laptop shell that needs the company's Android phone to power up.
You dock the Razer Phone in the slot situated at the track pad, and as you might imagine the phone's display serves as one. You also use the phone's fingerprint sensor to authenticate and even the dual front-facing speakers because the laptop has no built-in speakers.
Project Linda laptop includes a 13.3 inch 120Hz QHD display with touch capabilities, 53.6 watt battery, 200 gigabytes of storage, USB-A and USB-C connections, a 720p webcam, as well as a 3.5mm headphone jack that is missing from the phone.
The laptop is 15 millimeters (~0.7 inches) thin and weighs around 1.25 kilos (~2.75 lbs). Like with Razer Blade, you also get an RGB backlit keyboard with Razer Chroma.
No one knows if Linda will ever make it to the stores, but it is definitely one of the more impressive and interesting hybrid concepts we've seen in a while.