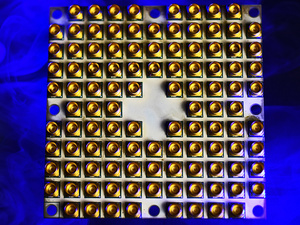 While Intel has recently been
in the news
for
all the wrong reasons
, perhaps excluding the
collaboration with a long time rival AMD
, to open up Consumer Electronics Show in Las Vegas they unveiled a technological breakthrough in quantum computing that hopefully shifts the focus.
The new 49-Qubit quantum chip is called Tangle Lake, and promises leaps in superconducting computing. Intel calls the new chip a major breakthrough and according to the company it truly starts quantum computing era. This even though we've seen 128-Qubit systems from a Canadian quantum computing company D-Wave Systems years ago.

The 125-Qubit D-Wave, originally unveiled in 2015, has since been surpassed by D-Wave 2X quantum computer that offers processing powers in the 1000-Qubit range.



Intel's breakthroughs are obviously still a big news in the space, after all, it is the largest CPU manufacturer in the world. Tangle Lake, as well as other quantum computing endeavors by Intel come from their Netherlands unit.

Intel's keynote was not entirely focused on quantum computing, though. The company also talked about a project called Loihi. Loihi is the company's neuromorphic chip that tries to mimic how brains work. It was first revealed last fall but has been improving a lot since.

Neuromorphic chips might be the future of AI applications, especially the ones where you need to think like a human – it might sometimes be a hinderance. Currently Loihi is able to do simple tasks like identifying objects.

According to Intel it will take a while before Loihi, or others, are market ready, but we could see the first neuromorphic chips hit the computers in need for a brain-emulating AI in two to four years.