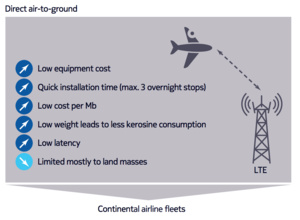 Google is in talks with Nokia to buy their air-to-ground LTE technology,
Bloomberg reports
. According to the information acquired by Bloomberg, Google's parent company Alphabet wants to expand its current ISP service to new markets.
Nokia has developed a technology called A2G (air-to-ground) which uses mobile broadband connections to connect airplanes to ground cell towers. This means that you don't have to bounce the connections off of satellites. It improves upon both speed and latency of the connection on planes that traditionally use satellites for internet connectivity.
Google has been looking into bringing fast internet connections to flights. Currently the market leader is Gogo Inflight Internet operated by Chicago-based Gogo.
The search giant has been looking for ways to connect people of the world in myriad of ways. One of these is of course Google Fiber, which has been
expanding slowly but surely
, but also cross-ISP service Profect Fi as well as more experimental connectivity advancements in Project Loon with high-altitude balloons.
The deal with Nokia, however, is yet to be finalized so nothing is official yet. We'll just have to wait and see, but considering the dire situation with airplane connections, one can hope for competition from Google.