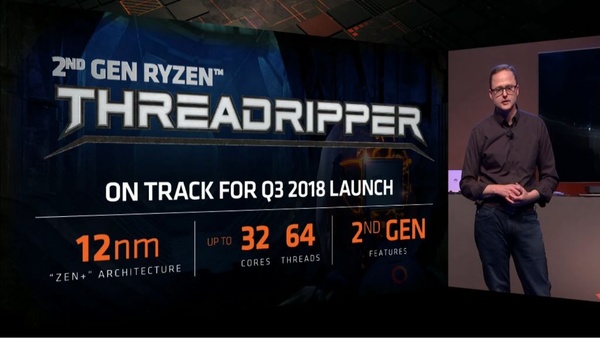 AMD has put their newest, and most powerful, addition to Ryzen Threadripper family of CPUs on pre-order. The chip in question is the 32-core and 64-thread Ryzen Threadripper 2990WX, the first of the WX series, that was unveiled in June.
Now 2990WX is available for pre-order for those looking for a truly top notch multithread processor. The second generation Threadripper chip includes new Zen+ architecture produced with 12 nm process, but its TR4 socket is supported by current X399 motherboards with a BIOS update.

According to AMD, the new Threadripper 2990WX managed to already snatch the record for Cinebench multithread benchmark, although not with default cooling solution, as you might imagine. The CPU normally clocked at 3.0GHz (and boosted at 4.2GHz) was overclocked to 5.1GHz during the test.

While powerful in all kinds of tasks, this specific family of chips is meant mainly for professional use, be it video rendering or other CPU intensive work, where core and thread counts are important. The price tag is telling as well, as not many PC enthusiasts are willing to shell out $1799 for a CPU.



Ryzen Threadripper 2990WX pre-orders are now open and it'll take another week for it to hit the stores on August 13. The cheaper $1299 24-core (and 48-thread) 2970WX will be released next month.

AMD also has new Threadripper X series which includes the 16-core and $899 2950X, which is due at the end of this month, and 12-core and $649 2920X which is released alongisde 2970WX next month.

Now we'll just wait for Intel's answer, which should be a new 28-core CPU later this year.