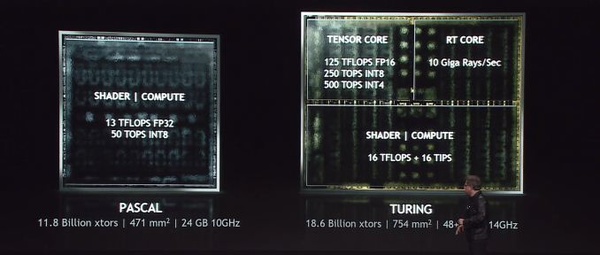 The leading GPU manufacturer Nvidia has finally gave us some Turing news, and to start with it has revealed its most powerful professional GPU.
Turing is of course the company's new architecture that it will apply not only in the new Quadro RTX 8000 already revealed but also the upcoming, more gamer-friendly, GPUs that are expected from Gamescom next week.

Aforementioned Quadro RTX 8000 is a powerhouse of a GPU that professionals of all ilk working with extreme cases of graphics intensive workloads would appreciate. The unit includes 567 Tensor cores that have been upgraded to Turing specs.

That includes a dedicated RT Core unit which is responsible for raytracing calculations. Obviously that'll give the other processing cores more time to focus on other tasks whether they'd be AI calculations or more general purpose tasks.

Speaking of general purpose tasks, there are 4608 CUDA cores on board the new RTX 8000, and a completely insane 48 gigabytes of GDDR6 memory.

As you might expect, specs like that don't come cheap. In fact the price for RTX 8000 is an insane $10,000. Worry not, though, there will be more affordable Turing cards in the near future.



The company has teased upcoming gamer GPUs on a YouTube video. Nvidia is expected to release new GPUs at Gamescom on August 20.

According to the nicknames on the video, RTX 2080 is probably a safe bet for the name of the upcoming flagship gaming GPU.