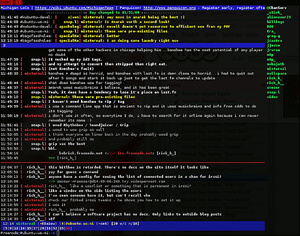 Internet Relay Chat, better known by its acronym IRC, is celebrating a birthday. In fact this year the chat protocol is turning 30, University of Oulu, the birthplace of IRC,
reports
.
IRC was developed in University of Oulu in Finland in the late 80s. The messaging platform was created in the Computer Science department as a replacement for their BBS-based messaging platform called MultiUser Talk, or MUT.

In August of 1988, exact date unknown, Computer Science student Jarkko Oikarinen released IRC, both server and client software, that he had developed over the summer. The first server was run by a Sun-3 computer in the Department of Information Processing Science lab.

If you aren't familiar with IRC, it's a text-based real-time chat software where users can create and join channels for example based on their interests or group of friends.

Obviously the implementation of IRC was very successful since its been used for 30 years and continues to be used, although in much more limited fashion compared to, say, mid- to late 90s.



Modern chat software, including the likes of Slack and Discord, borrow a lot from the classic channel-based messaging platform.