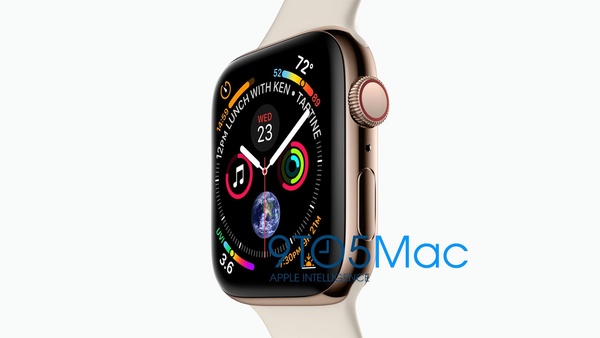 Apple's upcoming iPhone launch event has been
confirmed for September 12
, and in fact we've already seen the first pictures of the upcoming iPhones.
However, there are more than iPhones to be released. Apple is preparing the launch of a new Apple Watch and perhaps even new iPads. The latter we haven't seen yet, but a leaked picture revealed what the upcoming new generation of Apple Watches has in store.
The picture doesn't reveal everything about the new device but it does give us a few details about the smartwatch. First of all is the most obvious difference: the display. Apple has enlarged the display to more or less meet the edges unlike the previous generations.
This means probably not only larger display but better resolution which is why the watch face looks so much more busy. There will be other watch faces, as we know, but thankfully this one gives us a glimpse of a new feature that we haven't seen before.
Apple seems to have implemented a UVI gauge into the watch face. UVI stands of course for UV index, or ultraviolet index, and measures how much ultraviolet radiation reaches the surface of the earth at any given time or place. UVI is an important tool to determine when it is necessary to apple sunscreen to avoid sunburn.
It is unclear if the app is created by Apple themselves, or perhaps a third-party developer, but, as
BGR notes
, the other features seem to be Apple's own so there's a high likehood that the UVI meter comes out of the box as well.
Other than that the new picture doesn't reveal too much about the device, or at least nothing new, the smartwatch still definitely looks like an Apple Watch. We'll have to wait another 11 days to find out all the specs and such.