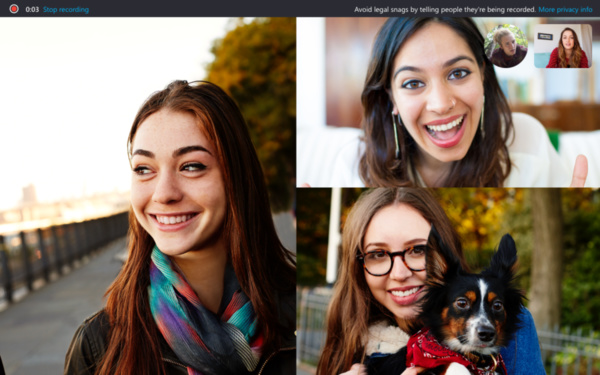 Skype has added call recording to most of its latest versions enabling you to record audio and video calls.
Call recording is completely cloud-based and is now available on the latest version of Skype and on most platforms, except Windows 10. Call recording is coming to Windows 10 with the latest version of Skype releasing in the coming weeks.
As soon as you begin recording a call in Skype, all participants will be notified that the call is being recorded with a bar that appears on the app. The app also suggests that verbally notify users that they are being recorded to avoid legal hassles later.
Recorded calls are stored in the cloud for thirty days but you can download them for posterity if you wish.
On Desktop apps, the option to start recording is available when you click the + icon on the bottom right of the screen. Likewise, on mobile, tap the + icon and you get an option to Start Recording.
After the call, the recording is finalized and then posted to your chat where it is available for 30 days. You and everyone on the call can save the recording locally or share the recording to your contacts any time during the 30 days.
To save a call on Desktop, go to More Options and then select Save to Downloads. You can also select Save As if you want to choose the destination folder. It will save as an MP4 file. On mobile, just tap and hold the recorded call in the chat. When the menu is displayed, tap Save. The recording will automatically download and save to your device's camera roll as an MP4 file.
More info:
blogs.skype.com