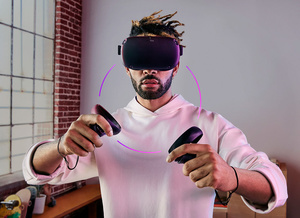 Oculus VR, one of the foremost pioneers of virtual reality headsets, has announced a new product. Facebook-owned,
since 2014
, Oculus' new headset is called Quest.
At Connect 5 keynote Mark Zuckerberg took the stage to announce the new Oculus Quest. Oculus Quest is the social media giant's next-generation VR headset that offer wireless connectivity and familiar motion controllers.
The main improvement over the current generation is the ability to use the product in almost any situation thanks to the wireless nature of the headset. The location tracking is found in both the controllers as well as the headset with four wide angle cameras placed in each corner.
As there is no wires, Oculus Quest includes a battery and all the necessary computing units inside the headset. This also means that the processing power is nowhere near a PC powered VR headset.
Oculus expects over 50 games to be shipped with Oculus Quest but didn't name any games.
Oculus Quest will cost $399. They'll hit the market next spring, but Oculus doesn't have a firm release date for the headset yet.