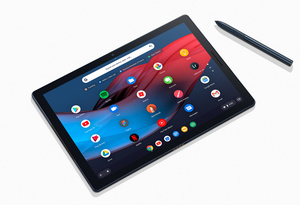 As anticipated, Google
introduced yesterday two new Pixel phones
, but perhaps the most intriguing new product was the new Pixel Slate.
Pixel Slate, as
leaked prior to launch
, is the search company's new try at making a proper tablet. A mobile device that brings in many of the advantages of a full fledged computer.
Thus it is not running Android, instead it is essentially a keyboard-less Chromebook. A Chromelet, let's say.
So inside you have a new version of Chrome OS that now offers an even greater Assistant integration and productivity features, such as split screen multitasking.
Pixel Slate offers both simple, fluid, and fast mobile apps as well as support for Linux apps. Two entirely different takes on computing.
Specs-wise it's an odd one. It includes a 12.3 inch LCD display with 293 ppi, which Google calls best in class, 8 megapixel cameras in the front and back, and laptop-like performance.
Performance comes from an Intel processor, and they range from less than impressive Celerons all the way to a Core i7, up to 16 gigabytes of RAM, and up to 256 GB SSD storage.
The prices start at $599 (Celeron, 4GB, 32GB) but for the top specced Pixel Slate you'll have to shell out a whopping $1599. The keyboard cover isn't cheap either at $199.
It will ship later this year but there's no official release date as of yet.