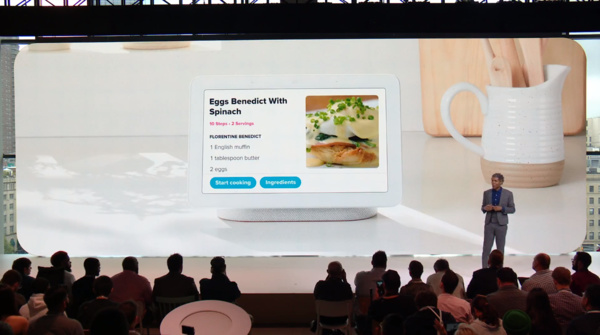 It is called Google Home Hub, and we thought it
might have been due already last year
.
As expected it features a touch screen, not unlike Echo Show, and because it is a Google device it can play videos from YouTube among other things.
It has all the features of a normal Google Home but also answers your questions with content on the screen. That means that you can ask it to play a song and it'll do that but also shows the music video.
Or you can get cooking instructions now with step by step picture or video to walk you through. To make it more obvious that Google has Amazon beat here, they offer a six month membership on YouTube Premium for free with a purchase of Home Hub.
One of the more interesting software features of Home Hub also comes to the Home mobile app. New Home View combines all the smart home devices to one neat view so you don't have to open different apps for adusting the lights, checking the security camera, and tweaking the temperature on the thermostat.
Google Home Hub will come available in four different colors, light gray Chalk, pinkish Sand, dark gray Charcoal and green Aqua) for $149. Pre-orders started immediately and the product will ship on October 22.