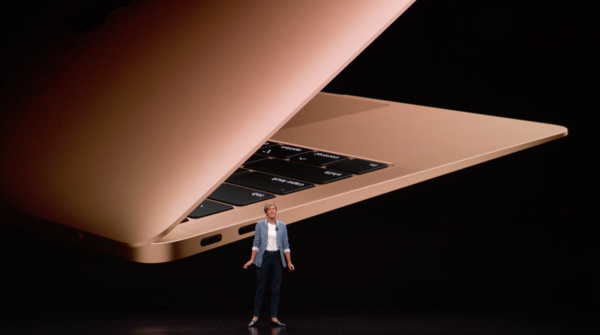 One the more anticipated new devices from today's Apple event is definitely a new MacBook Air.
The update has been rumored for ages it seems, and it is finally here. Apple's light and affordable MacBook got a new sharper display, biometrics, and of course performance boost.
The screen on the new MacBook Air is a 13.3 inch Retina display. This means four million pixels, or 2560 x 1600 resolution, up 4x from previous generation.
Apple has also improved the color accuracy and the color reproduction is now 48 percent better. As with
the new iPad Pro
the bezels are also smaller.
Inside you'll get newer 8th gen Intel CPUs and thus greatly improved performance. Base model includes 8GB RAM, a 1.6GHz Core i5, and a 128GB SSD.
Connections have been updated to 2 third gen Thunderbolts which can used for both data transfer as well as charging.
The touch pad is enabled with Force Touch and logging in is now easier thanks to Touch ID.
According to Apple, you should be able to hit 12 hour browsing with improved battery life.
Like the iPad Pro, the new MacBook Air will be available on Wednesday, November 7. You can pre-order it starting today at a starting price of $1,199.