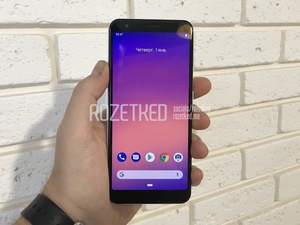 Google's newly released Pixel 3 smartphones are the craze at the point. They are definitely at the peak of Android phones, but unfortunately they don't come cheap.
I mean, they aren't iPhone expensive, but for many $800 on a phone is just unequivocally too much. Fortunately it seems like Google is bringing some of that magic to lower price points.
A new leak from a Russian website details an upcoming Pixel device called Pixel 3 Lite. As you might imagine from the suggested name, the device is a cheaper version of Pixel 3, a midtier smartphone.
According to the website the phone, known as codename Sargo, features the same amazing 12 megapixel camera from the original Pixel 3, by far one of the most important features of the Pixel lineup altogether.
The phone has larger bezels but sports a similarly sized 5,56 inch Full HD+ display (compared to regular Pixel 3), but instead of AMOLED uses an IPS panel. You also have a USB-C and front-facing stereo speakers.
One thing you won't find on the more expensive Pixels but you have here is the headphone jack, which could win some people over.
Clearly the biggest drawback, however, is the SoC which is a new midtier Snapdragon 670. That will affect performance quite a bit, although day-to-day stuff is probably going to still be butter smooth.
There's also said to be 4 GB of RAM as well as 2915 mAh battery, just like on Pixel 3. Storage options include at least 32 GB and there is no microSD slot.
Rumors have it that it's going to retail somewhere between $400 and $500 but there's no word on availability. If indeed real, and slated for launch, it's expected to be revealed in late 2018 or Q1 2019.'
You can find more photos
here
.