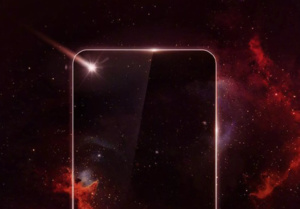 Ever after iPhone X, and actually a little bit before that, we've had to look at these horrible foreheads on our phones.
The notch originally became a thing with the Essential Phone, but soon after everyone was trying to squeeze in more display real estate by introducing a curved area of some sort for the front-facing cameras and sensors.
Now, there are worse offenders like iPhones and Pixels, and there are solutions that you might actually kinda like, including the new OnePlus 6T and its teardrop notch.
It seems to be undeniable though that no notch is better than even a small one, and some have even moved the camera to a pop-up slider to avoid a notch of any kind.
However, less moving parts is also immensely better than more moving parts, so those solutions might not be the answer.
So if you had to have the camera in the front but want to maximize the screen size, there is really only one solution, and Huawei is ready to reveal it.
The leaked imagine, the one above, is supposedly portraying just that, a round camera cutout in the display for the front-facing camera.
According to
SamMobile
, Huawei is not alone either. Samsung is planning on releasing a new higher mid-tier device called Galaxy A8s that might have a camera cutout as well.
Hard to say which one of these will be announced first, although considering
America's bias against Huawei
, the first one available in the States is probably the Galaxy.