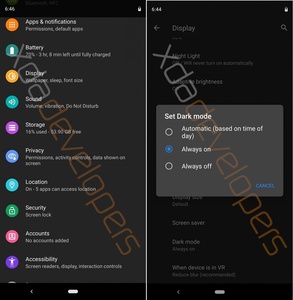 The most recent version of Google's mobile operating systems, Android Pie, is still very much in the minority on Android devices, but we've already gotten past it and are getting leaks about the next version.
For those of us that have a Pixel or a phone from a manufacturer that truly respects Android updates, there are some exciting news.
New information about the upcoming Android Q reveals a few highly anticipated features.
XDA-Developers reveals
that the developer version of Android Q includes system-wide dark mode.
The feature has previously been rumored but this seems to all but confirm it's going to be on Android Q. Of course, Google could still axe the feature as Android Q is months away.
Dark mode turns the entire OS into a darker themed, and in OLED devices more battery friendly, Android phone. While you already can change the theme to a dark version, the new version will improve the support across the OS.
Some updates revealed by the developer version have to do with security. According to XDA, Google is making also system-wide changes to privacy.
One of these changes is to allow "only while the app is in use" permissions.
Other changes include a Samsung DeX-like desktop mode and built-in screen recording, although the latter is not working in the developer version.
As said, there's still plenty of time for Google to change the features around a bit. Final release is expected around August, but we'll probably hear from Google officially earlier during the summer.