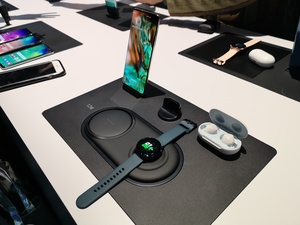 Samsung held its yearly Unpacked event this time around in San Francisco's Bill Graham Civic Auditorium. A new city and a new venue for Unpacked brought out some new approaches to press events of this sort.
Samsung started with a bang by unveiling Galaxy Fold, or Galaxy F as we knew it previously. However, it was never to be seen after the keynote when we got to try out the new Galaxy devices. Neither were Galaxy Fit, an affordable (one can presume even without price details) fitness tracker, or perhaps the most anticipated Galaxy device, the 5G version of Galaxy S10.
What we did get to handle weren't all that bad either. So let's go through our first feelings after the initial hands-on.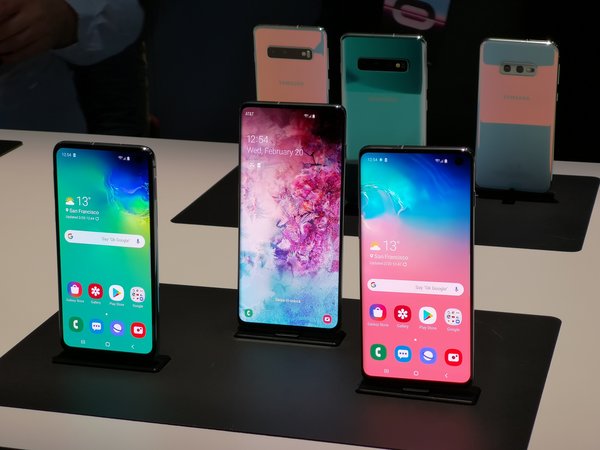 Devices from left to right: Galaxy S10e, Galaxy S10+, Galaxy S10 (behind the other way around)
When it comes to displays, Samsung has always excelled. It hasn't really joined the notch-party but instead they went all out this time around and implemented the hole-punch display.
They are bigger and better, of course, and take up more of the front real estate. It has to be said that the two cheaper models fitted better in our hands, and they look better too with less intrusive hole in the display.
What's better is that you won't see a difference in lack of edges, except for the cheapest S10e not having an Infinity Display. The top bezel is as thin as the largest S10+, though, with a minimal speaker grill.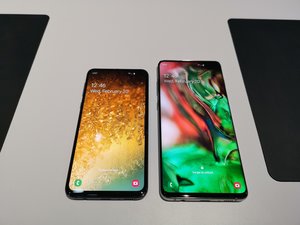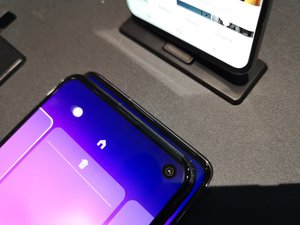 Pretty much everything specs-wise got a bump for the better as you can tell from the improvements in RAM, storage capacity, improved cameras with HDR10+ recording and even a 25% boost to battery life.
Larger battery can also be used to charge other devices that support wireless Qi charging thanks to new bilateral charging feature called Wireless PowerShare.
One of the more anticipated features was of course the new type of fingerprint sensor that debuted in the Galaxy S10 and S10+. The ultrasonic sensor is faster than previous in-screen fingerprint sensors, but in our limited tests still couldn't match the leading traditional fingerprint sensors.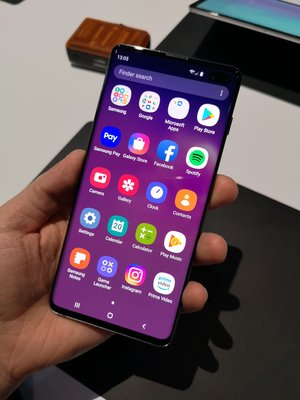 Unfortunately our testing was cut short by the Samsung rep who informed that testing fingerprint sensor is not allowed since it might lock other people out from devices.
All aforementioned features make the S10 way better than its predecessor, but unquestionably the most important update wasn't with the hardware at all.
The new One UI finally delivers a cohesive and attractive interface that doesn't show any signs of hiccups. You can choose from either new Android experience with gesture navigation or rely on the old school buttons.
No matter which you choose, it is a huge improvement to previous installments of Samsung's Android UIs. It's still clearly a Samsung experience, but this time around you can say it truly without negative connotations.
One of the main features of One UI is that it divides the screen into two very distinct sections, the interactive part on the bottom and the visual at the top. This is not only an aesthetic choice, which to our eyes seems like a good one, but perhaps more important a usability improvement.
With the new UI it is always easier to reach the interactive elements with just one hand, an all-important feature in the age of ever-increasing screen sizes.
As expected, Samsung also introduced new wireless earbuds called the Galaxy Buds. The most important feature of Galaxy Buds, which also differentiate them from AirPods, is wireless charging. This also allows them to be charged using the S10's Wireless PowerShare.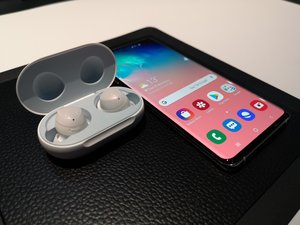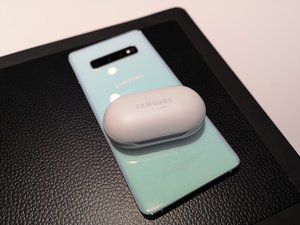 The earbuds themselves, as well as the case, feel light yet sturdy. One of the design flukes might have been the super slippery case, which seemed to slip in both our as well as Samsung representatives' hands. This also makes it harder to place them on the slipper glass back of S10 or S10+ for charging.
Lastly we had a little look at the new Galaxy Watch Active. It's a fairly small smartwatch, although still clearly thicker than traditional watches, that offers a nicely colorful display. The UI reminded us of Apple Watch but other than that there's not much to write home about. Just like the Galaxy Buds they also support Qi wireless charging with the magnetic charging pad as well as Wireless PowerShare.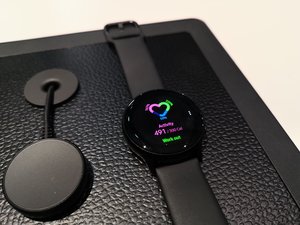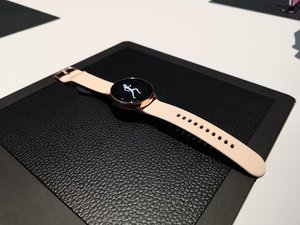 As said, there was no Galaxy Fold, Galaxy Fit nor Galaxy S10 5G to be handled. We'll have to wait a little bit longer before we can see how well they fare in our hands.