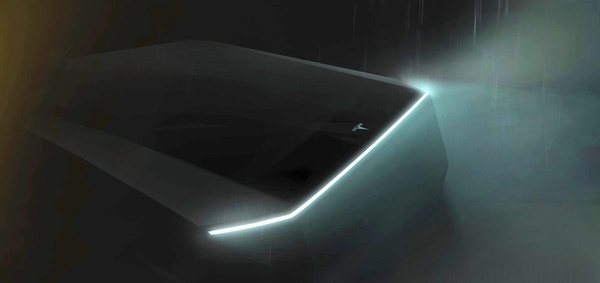 Yesterday Tesla
introduced their upcoming crossover vehicle
, Model Y, but we also got a little taste of more distant future. Even though Model Y did complete Elon Musk's pun-ful S3XY collection, this is not the end for new Tesla models.
In fact, the ending of the webcast that featured the amazing soundtrack from the original Blade Runner also quickly flashed a teaser we didn't expect. Thankfully Elon Musk revealed this teaser in his Twitter post.
Around a minute in they flashed a picture which features the silhouette of a futuristic looking vehicle. Elon Musk calls this "Tesla cyberpunk truck," a model that has been talked about for quite a while. Trucks are of course hugely popular in America, and would be an obvious next move for Tesla and its high-torque electric motors.
It's hard to say what the picture is, but it kind of looks like the back of a pickup with a bed cap and a Tesla logo on it. The light strip would act as backlights.
Obviously at this point it might just be a drawing that won't get even close to production, after all even some of the now introduced Model Y versions will take another year and a half.
About a minute in, we flashed a teaser pic of Tesla cyberpunk truck pic.twitter.com/hLsGsdyuGA

-- Elon Musk (@elonmusk) March 16, 2019