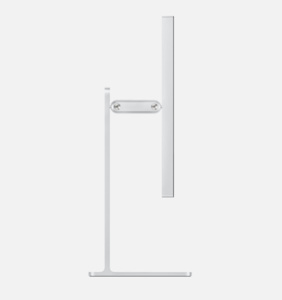 For most of us the annual OS upgrades are the most meaningful announcements at Apple's WWDC. However, some people have been waiting for a professional grade computer from Apple for ages, and they finally got some exciting news this year.
Apple
announced the new Mac Pro
, which returns to its previous cheese grater design before the 2013 trash can. The computer is as nutty when it comes to maxed out specs as is it's asking price even at the low end, $6,000.
However, many of the pros also need a high-end professional display to go with the professional grade computer. Fortunately Apple announced a new display alongside its Mac Pro.
The new Pro Display XDR specs are out of this world, too. The 32-inch display features 6K resolution, 6016 by 3384 pixels, at 218 PPI. It has 1000 nits continuous full screen brightness and 1600 nits peak.
The XDR moniker comes from eXtreme Dynamic Range, and that is exactly what you get with a contrast ratio of 1,000,000:1, which is insane for an LCD. Color-wise it features P3 wide color gamut and 10-bit depth for 1.073 billion colors.
As expected, it supports many of the most common reference modes, and according to Apple features the best off-angle viewing experience of any LCD display.
The display has one Thunderbolt 3 and three USB-C ports.
Sounds pretty amazing, doesn't it? Unfortunately you need a really good reason to buy it too, since it won't be easy to convince your partner that you are spending $5,000 on a computer monitor.
That is if you get the baseline glossy version. If you want Apple's nano-texture glass (matte finish) you'll have shell out another $1,000.
If you want a stand, and ugly albeit seemingly very capable one, for your new Pro Display XDR, it's another $999. VESA mount is only $199, though.
One has to put the display's price in perspective, though. Other professional reference monitors can go way beyond Pro Display XDR prices. It remains to be seen whether this one can compete with the ones that cost $20,000 or more.