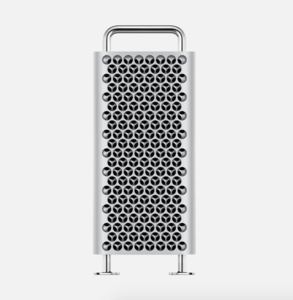 The bulk of Apple's this week's WWDC keynote was taken by new OS announcements, including
iOS 13
and
the new iPadOS
.
However, one thing that most of us will probably never get, or even see, caught the attention of us all. Apple's new Mac Pro.
Apple is finally releasing a replacement for their modular computer aimed at professionals. The previous one is the iconic trash can Mac Pro from 2013, and now they've introduced a new one with a brand new design.
The design itself is controversial, after all it does look exactly like a cheese grater pretty much like the one before the trash can, but it's also pricey beyond mere mortals.
It starts at $6,000, and no one knows how high the price goes when you jack it up with everything they've got.
The system includes a 8/12/16/24/28 core Intel Xeon processor and 12 DIMM slots for up to 1.5 TB of RAM. It starts with one AMD Radeon Pro 580X and can be suited with up to four AMD Radeon Pro Vega 2 cards. There's 8 PCI slots, four full and four half-sized, up to 4 TB of SSD storage, and a 1400 watt PSU.
So clearly is it not only crazy expensive, it also is potentially a beast of a machine. Also, the ridiculously expensive professional computer needs a monitor that's at least as ridiculously expensive, right?
Read here about Apple's new Pro Display XDR
.
The new Mac Pro will launch some time this fall.
So, how much do you think the highest end 2019 Mac Pro will cost?