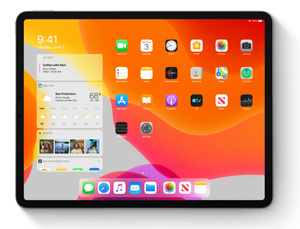 As expected, Apple released a new version of their mobile operating system at WWDC earlier this week. However, they also announced another mobile operating system, solely meant for iPad.
Apple has been trying to convince customers for a long time now that iPad is actually going to replace PCs. Not many Apple commercials are as controversial at the one where a kid using an iPad asks "What's a computer?"
Not only is iPad a computer but also it is nowhere near replacing a proper one. You know, one with a file system and I/O support worth anything.
Now Apple has unveiled the new iPadOS. Starting in iOS 13,
also announced at WWDC
, iPhone and iPad software aren't exactly alike anymore.
Unfortunately iPadOS is still a fork of iOS and shares almost everything with iPhone's operating system. It's definitely not yet a computer operating system with aforementioned features.
However, there are some improvements that take it more to that direction. Multitasking has been improved, which means that you can make multiple instances of the same app and use them in separate Spaces. Also, while file system is still crippled by iOS DNA, file management is better thanks to improved Files app with support for USB storage and SD cards.
Other changes include download manager within Safari, widgets on the Home screen, keyboard shortcuts, and more.
It is currently available for developers and will officially launch this fall for iPad Air 2 and later, all iPad Pro models, iPad fifth-generation and later, and iPad Mini 4 and later.