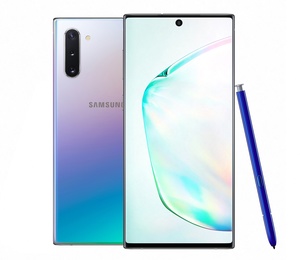 Samsung has today announced its newest flagship smartphones at the Barclays Center in New York City. As expected, this time around Samsung had two separate Galaxy Note models to offer.
The regular Galaxy Note10 is the smaller of the two, although sporting a fairly sizeable 6.3 inch screen. The larger Galaxy Note10+ features the largest ever screen on a Note smartphone at an impressive 6.8 inches.
The two displays are not only separated by size but also offer different resolutions. The smaller one has FHD+ resolution at 2280x1080 (like Galaxy S10e) and larger QHD+ at 3040x1440 (like Galaxy S10 or S10+). Both of them utilize Samsung's praised AMOLED technology.
While the international version of the Note10 will have an improved Exynos chip (over the S10), the US version has the same Snapdragon 855 as this years previous flagships. In Galaxy Note10 you'll get 8 GB of RAM, while the plus version offers 12 gigabytes.
There's also only one 256 GB storage option for the former, and the latter can be bought in both 256 GB and 512 GB variants.
In the camera department both have trio of cameras featuring a wide angle (77°) 12 MP f/1.5-2.4 default shooter, ultrawide (123°) 16 MP f/2.2 camera, and one with a telephoto lens (45°) with 12 megapixels and f/2.1. In addition, the Note 10+ has a ToF (Time of Flight) camera that can help with measuring real life objects.
Selfie shooters are the same 10 MP f/2.2 camera in both models. Of course the new S Pen is found on both models as well, and has been improved once again, for example with new S Pen Air gestures.
As you might imagine the Galaxy Note10+ has the larger of the batteries at 4,300 mAh while regular model's capacity is at 3500 mAh.
Galaxy Note 10 comes available in four colors. Galaxy Note 10 costs $949 while 256 GB Galaxy Note10+ is $1099 and 512 GB variant $1199.