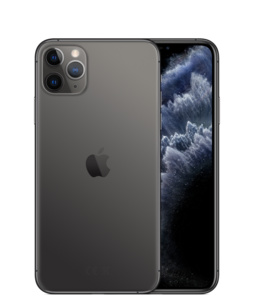 Apple announced today the iPhone 11. However, that is not the new flagship of the iPhone lineup, instead the cream of the crop is iPhone 11 Pro, and it's bigger sibling iPhone 11 Pro Max.
The successor to last year's iPhone XS features the same 5.8 and 6.5 displays with Face ID cutouts. The display's have been improved, though.
According to Apple they provide better brightness and color accuracy, and that is why they've adopted a new moniker Super Retina XDR.
The iPhone 11 Pro, just like the cheaper iPhone 11, is powered by the new A13 Bionic chip, which Apple says improves upon CPU, GPU as well as NPU performance up to 20 percent.
Not only is it more powerful but it's more energy efficient, which improves battery life. Apple says iPhone 11 Pro lasts up to 4 hours more than its predecessor iPhone XS.
Even better, it now comes with a faster charger out of the box, and you won't have to use your iPad charger no longer.
Clearly the biggest improvement over the previous generation, however, is the camera. In the back you now have three cameras instead of two. The new one being the wide angle camera, just like in iPhone 11.
The trio thus consists of a 12 megapixel optically stabilized main shooter, a 2x telephoto camera, and a wide angle camera with a 120 degree view, or as Apple calls it 0.5x camera.
As with the cheaper sibling, the Facetime camera has been upgraded to a 12 megapixel one.
All four cameras on the phone support 4K video recording at 60 fps. There's also support for slow motion, extended dynamic range, and Night Mode.
Furthermore Apple has improved upon its video editing features in the Photos app.
Apple also gave a sneak peek into an upcoming feature called Deep Fusion, which combines nine pictures, eight of which are taken before you press the shutter button, into a crisp and noise-free image.
The new iPhone Pro will be available on September 20th starting at $999 and go up to $1449 for the most expensive Max model. Pre-orders start this Friday.