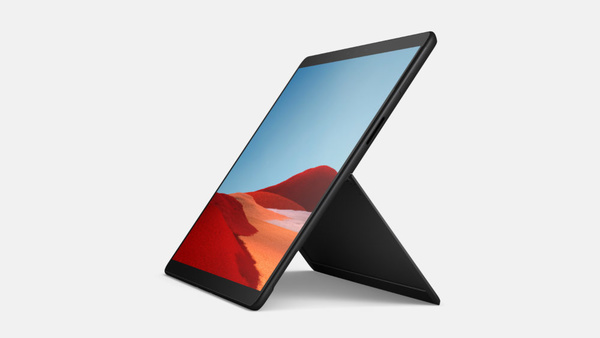 Microsoft's announcements yesterday can be divided into two categories: refreshes and new products. The former include the likes of
Surface Laptop 3
and
Surface Pro 7
.
The latter was represented by the next year's
Surface Duo smartphone
but also a product that you don't have to wait another year.
It is the Surface Pro X, which is a slimmer and more mobile version of the Surface Pro lineup. What makes it very different from other Surface Pro devices is the CPU. This is the first Surface Pro with an ARM processor.
However, Microsoft assures that it is capable of performing like a full-fledged Windows 10 computer, a proper Surface Pro, should.
Surface Pro X features a 13-inch, 2880 by 1920 resolution display with what Microsoft calls the thinnest bezels in class.
The system-on-chip inside is a custom Qualcomm chip developed with the help of Microsoft. They call it Surface SQ1 and it's based on Qualcomm's Snapdragon 8cx that has found its way to laptops, for example in Samsung Galaxy Book S.
Instead of the Adreno 680 GPU of Snapdragon 8cx the Surface SQ1 CPUs are paired with a slightly faster Adreno 685 GPU.
According to Qualcomm, the Snapdragon 8cx is very comparable to a 8th gen Intel Core i5-8250U, even beating it in many benchmarks. However, we don't have figures for the Surface SQ1 yet, but one can imagine it is an improvement.
Surface Pro X's design is definitely Surface-like, but it has adopted a softer approach. Surface Pro 7's sharp lines have been replaced by smoother, rounded edges. It is also super thin at only 7.3mm – thinner than the most recent iPad.
In a familiar fashion from the updated Surface products, Surface Pro X too features USB-C connectivity. In fact, it has two of them, unlike any of the other Surface products. For those constantly in the move, it has an option for LTE connectivity with a nano SIM slot.
Surface Pro X has two cameras: a 5 MP front-facing camera with 1080p Full HD video recording and a 10 MP back camera with 4K video. Support for the new Surface Slim Stylus and magnetically connecting Type Cover keyboard are included.
Depending on the version (and color) you'll get 8GB or 16GB of LPDDR4x RAM, and 128GB, 256GB, or 512GB of SSD storage.
Surface Pro X will be shipping on November 5 starting at $999, and is available for pre-order now.