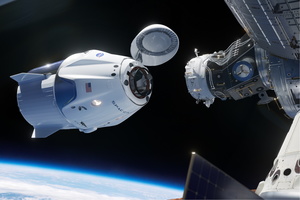 NASA administrator Jim Bridenstine is visiting the SpaceX headquarters in the suburbs of Los Angeles today and will hold a joint press conference with CEO Elon Musk.
This visit comes after the pair seemed to trade jabs following SpaceX' recent public update on the progress of its ambitious Starship project. Before Musk could enthusiastically show off their rapid progress on Starship to journalists and space travel enthusiasts, Bridenstine took to Twitter and seemed to aim criticism at SpaceX for the delays in their Crew Dragon program.
Both SpaceX and Boeing are currently working on their crew launch vehicles - Crew Dragon for SpaceX and Starliner for Boeing - and both of them have run into significant technical issues and delays. Bridenstine seemed to be displeased that SpaceX was holding a public demonstration of the Starship progress when Crew Dragon was still lagging behind.
My statement on @SpaceX's announcement tomorrow: pic.twitter.com/C67MhSeNsa

-- Jim Bridenstine (@JimBridenstine) September 27, 2019
The SpaceX CEO didn't seem too pleased with this preemptive tweet and used part of a news conference to highlight the significant cost overruns and delays of NASA's Space Launch System (SLS). A few days later, Bridenstine revealed that the pair had spoken by phone and that it had went well.
"I had a great phone call with @elonmusk this week, and I'm looking forward to visiting @SpaceX in Hawthorne next Thursday,"
he tweeted on October 3.
Human-rated space flight and the private sector
SpaceX sent a Crew Dragon capsule to the International Space Station back in March this year. The mission was a success with a nominal launch and docking of the Crew Dragon to the station. After a few days, it left the ISS and returned to the surface of the Earth. This was a significant moment in America's efforts to send humans to space again, which it hasn't done by itself since the Space Shuttle was retired.
In the meantime, the United States spends approximately $80 million per astronaut to deliver them to the ISS using Russian rockets and Soyuz capsules. That the U.S. currently does not ferry astronauts itself is seen as an embarrassment by some, and a problem to rectify by many. However, safety is always the number one priority when flying human beings.
Unfortunately for SpaceX and NASA's short term goals, the same Crew Dragon that was docked to the ISS for several days subsequently exploded during a test in April. Boeing has also run into issues with their own Starliner system. For one thing, private options to ferry astronauts require that launch abort systems be demonstrated successfully. SpaceX and Boeing need to be able to show that in the event of a catastrophic failure of the rocket during the launch, the capsule can separate and return to Earth in a means that allows living beings on board to survive.
Lucrative contracts and repeat business await those private firms.
Bridenstine and Musk will hold a joint press conference today to update the public on the progress of Crew Dragon, and hopefully will give an indication of when human flights can commence.