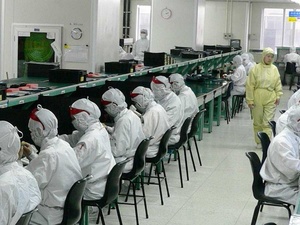 The world's leading contract manufacturer, Foxconn, estimates that the spread of new coronavirus is not going to affect production in a significant way. Foxconn, known also as Hon Hai Precision Industry, builds many of the most popular eletronics, such as the iPhone.
The Taiwan-based Foxconn is not worried about production slowdowns due to the outbreak of coronavirus that was first detected at the turn of the year. As of today there has been reported 5,974 cases in China of which 132 have resulted in death.

While the company headquarters are located in Taiwan, most of its factories are in China. Some of them are in cities where coronavirus has taken hold aggressively, including Wuhan and Chengdu.

While coronavirus has been highly publicized lately, the scope of things is still small. There is no pandemic, barely an epidemic yet. A normal year of influenza in the United States can include tens of millions of cases with tens of thousands of deaths.

However, Foxconn is nonetheless taking the threat seriously, as it should. It could be very dangerous and detrimental to the production if coronavirus was allowed to spread to the factory workers. The company is following health official's guidelines in order to keep things in check.



Some airlines have been cancelling flights to China due coronavirus related reasons. So far only 68 cases have been found outside China, 5 in the United States.