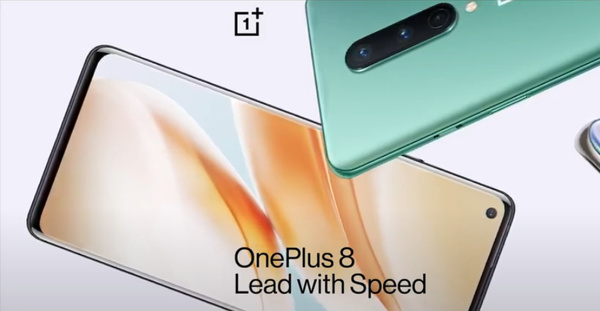 If OnePlus 8 Pro took on the Galaxy S20 Ultra, with the OnePlus 8 the Chinese manufacturer had its eyes on the iPhone. OnePlus 8 features a 6.55 inch Full HD+ AMOLED display with 90 Hz refresh rate. Although not as fast and high resolution as its big brother, it is still A+ rated by DisplayMate.
The company took a lot of time to compare the size of the display, and the phone, to iPhones. While OnePlus 8 boasts a larger display than iPhone 11 Pro Max, the footprint of the device is much smaller. And at nearly the same size as iPhone 11 Pro, the OnePlus display dwarfs the small 5.8 inch panel on the iPhone.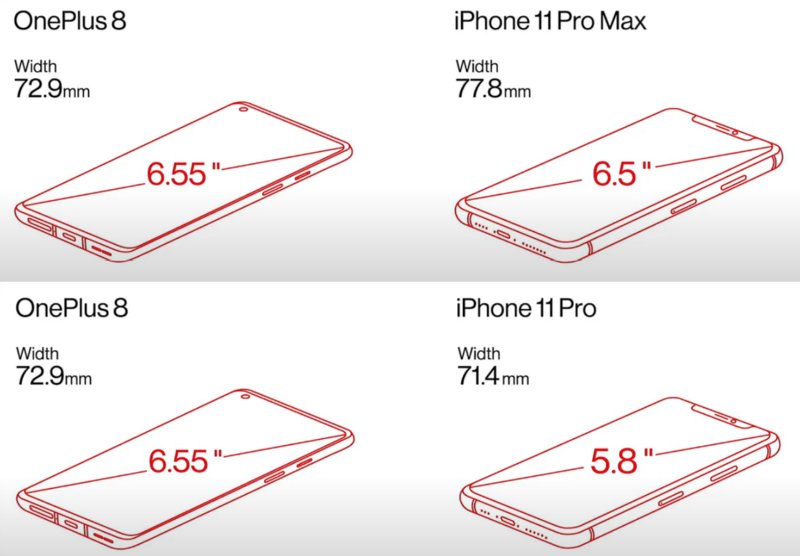 The compactness of the phone doesn't end there either. OnePlus 8 is slimmer and lighter than the iPhone too, at 8mm or 0.315" (excluding the slight camera bump) and 180 grams or 6.35 oz.
The design is still high-end with a familiar glass and metal sandwich industrial design.
Instead of the Pro model's quad camera setup there's only three back cameras here, and the sensors and lenses are different too. The 48 MP regular shooter is the same but alongside are a 16 MP ultrawide camera and 8 MP macro lens.
Front-facing camera is a 16 MP shooter that is located in the hole punched in the top right corner of the display, just like on OnePlus 8 Pro.
Wireless charging is nowhere to be found but the wired charging is the same 30 watt Warp Charging technology from OnePlus 8 Pro and previous generation OnePlus.

Other specs are similar to the Pro. You've got top-tier Snapdragon 865 chip, 8 or 12 GB of RAM (although slower LPDDR4, not LPDDR5), 128 or 256 GB UFS 3.0 storage, WiFi 6 support as well as Dolby Atmos enabled stereo speakers.
The battery is slightly smaller, likely largely due to the smaller footprint, at 4300 mAh.
OnePlus 8 will be available in North America on April 29 starting at $699 for the 8/128GB model and $699 for the 12/256GB model.