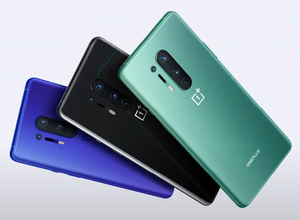 OnePlus had their streamed launch event for the OnePlus 8 Series and, as expected, announced two new smartphones. The flagship device OnePlus 8 Pro and a more affordable, more compact, sibling
OnePlus 8
.
OnePlus 8 Pro is packed with top tier features. Starting with the display, the OnePlus 8 Pro features a 6,78 inch QHD+ AMOLED display with 120 Hz refresh rate. Not only is it the first one to allow simultaneous QHD resolution and 120 Hz refresh rate, it also leads the market in picture quality.
In fact, DisplayMate has awarded it A+ rating as well as best-in-class in thirteen categories that include contrast, peak brightness, and native color gamut.

In terms of camera, the new OnePlus flagship features a 48 megapixel standard Sony IMX 586 sensor, a 48 megapixel ultrawide camera, a 8 MP and 3x zoom camera as well as a new type of 5 MP color filter camera that should allow you to filter your photos to your hearts content.
It remains to be seen how close to the tippity top of smartphone cameras this new one from OnePlus can get but it seems safe to say that it will close the gap to the iPhones and Pixels of the world.

Two other major improvements have been made to charging and water-proofing. OnePlus 8 Pro now features Qi wireless charging. To make wireless charging OnePlus grade, however, it also supports a proprietary 30 watt wireless Warp Charge in addition to 30 watt regular wired fast charging.
This is insanely fast for wireless charging, let alone wired one. 30 minutes from zero to 50% no matter if you are wires or wireless. There's no comparison to the likes of iPhone Qi charging that charges at a maximum of 7.5 watts.
There's one problem, though. You only get the 30 watts out of a $69.95 OnePlus charging dock, otherwise you rely to regular Qi speeds. Nevertheless, OnePlus leads the competition again in terms of charging.
OnePlus has waterproofed their phones for years but OnePlus 8 Pro is the first one that is officially certified IP68 water and dust resistant. Perhaps due to this, there's also no longer a pop-up selfie camera. Instead you'll get a 3.8 mm hole punched into the top right corner of the display.

Other specs are nothing to scoff at either. The phone features Snapdragon 865 chip with 8 to 12 GB of super fast LPDDR5 RAM and 128 or 256 GB of UFS 3.0 storage. Battery is 4510 milliamp-hours and there's a new haptic motor, support for WiFi 6 and, of course, 5G capabilities.
OxygenOS has been upgraded with new dynamic wallpapers that change according to weather and new all-encompassing dark theme among other things, and it will be updated to Android 11 later this year.
OnePlus 8 Pro will be available in North America on April 29 for $899 for the 8/128GB model and $999 for the 12/256GB model.