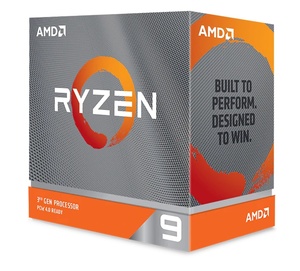 AMD has unveiled some new processor hardware that might get you excited, especially if you've been waiting for new midrange gaming CPUs.
AMD's new 3000XT Series brings XT branding first time ever to Ryzen series with three new CPUs. The new 3rd gen Ryzen desktop chips are: AMD Ryzen 9 3900XT, AMD Ryzen 7 3800XT and AMD Ryzen 5 3600XT.
According to the company, these new chips provide better clock speeds and Boost performance thanks to improved Zen 2 architecture compared to their predecessors (3600X, 3800X, and 3900X). The performance has been upgraded from previous 3000 Series but TDP values stay the same.
The CPUs are meant for content creation and gaming in mind and excel in these aspects thanks to their multi-core and multi-thread capabilities. The top line Ryzen 9 3900XT provide 12 cores and 24 threads and gets up to 3.8 GHz with a Boost clock maxing at 4.7 GHz. TDP stands at 105 W.
The middle variant, Ryzen 7 3800XT, features 8 cores and 16 threads at 3.9 GHz and 4.7GHz Boost with same 105 Watt TDP and the cheapest of them all, Ryzen 5 3600XT, is a 6 core processor with 12 threads and clock speeds of 3.8 GHz and 4.5 GHz. Power consumption is slightly lower at 95 W.
3600XT comes with a Wraith Spire v2 cooler while the other two don't come with a cooler.
The CPUs are going to be available starting July 7. The prices start at $249 for Ryzen 5 3600XT, $399 for Ryzen 7 3800XT, and $499 for Ryzen 9 3900XT.
For more information, check
AMD's press release
and
Ryzen site
.
Read also:
Amd, Cray to build world's fastest supercomputer at Oak Ridge National Lab