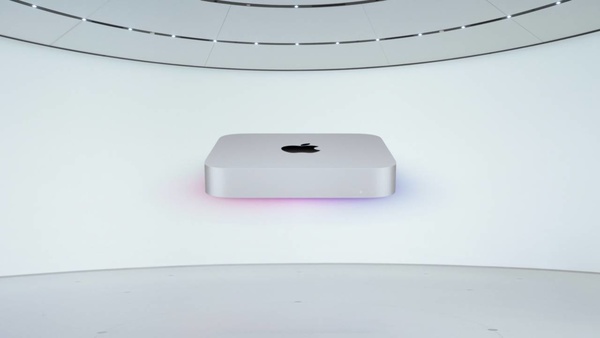 If there's one device in Apple's Mac lineup that isn't a laptop and would benefit the most from the new M1 chip it's certainly the Mac mini.
People weren't necessarily expecting Apple to announce a new Mac mini, not because it doesn't make sense – it does, a lot – but it just isn't among Apple's most important products.
However, for those that enjoy a tiny computer, it's really nice to see a refresh after two years of silence. The new Mac mini with M1 has massive improvements in terms of performance while retaining its minimal footprint.
Compared to the previous generation Mac mini, the new one offers three times the CPU performance and up to six times the GPU performance. Machine learning performance gets an even bigger boost thanks to a dedicated Neural Engine.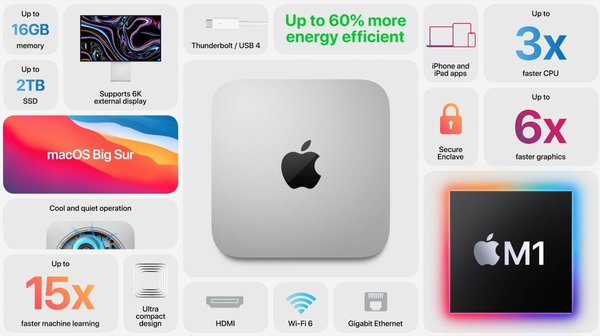 For years now, the Mac mini RAM hasn't been upgradeable, and that's obviously going to continue with the integrated memory on the M1.
Both RAM and SSD performance have been improved with the addition of M1.
One has to remember that this is compared to a two years old machine, and there's no proper benchmarks yet, only vague comparisons.
In terms of connectivity the new Mac mini has two Thunderbolt/USB4 connectors, one HDMI 2.0, two USB-A connectors, an Ethernet, and a headphone jack.
Prices start at $699 (8/256GB) with options including 16 GB RAM and SSD storage up to 2 TB.