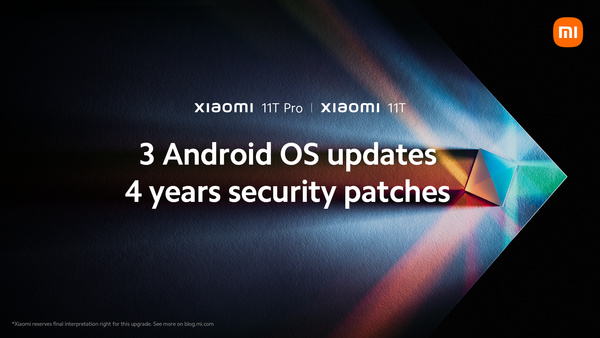 Long support for major Android updates is becoming an increasingly important competitive aspect in phone market nowadays. Now Chinese tech giant Xiaomi joins the bandwagon and improves its support singificantly.
For the upcoming Xiaomi's flagship model line, the company promises three major Android updates and four years worth of security updates. New flagship phones are about to be announced on 15th of September and will consist two models:
Xiaomi 11T
and
Xiaomi 11T Pro
.
As Android 12 hasn't been released yet, the phones will most likely launch with Android 11 and thus, will get Android 12, Android 13 and Android 14 over the years.
Company press statement states:
Xiaomi is committed to providing users with industry-leading hardware and lasting performance. In continuation of this commitment to users, Xiaomi is further extending the life cycle of Xiaomi's smartphones by ensuring three generations of Android operating system updates. This way, users can choose to use their current devices for a longer period, and enjoy the latest features along with it. At the same time, we will also provide users with security updates that ensure their devices operate securely for a longer period of time.
Upcoming 11T and 11T Pro models are expected to get Qualcomm Snapdragon 888 chipset, 120Hz display and all the other bells and whistles expected for a major manufacturer's new flagship phone.
The list of phones expected to get Android 12 is growing rapidly
, which is a very good thing for those of us that want our phone to sport the latest OS.