Advanced TMPGEnc Guide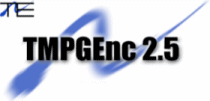 This is an Advanced guide to using TMPGEnc. With this guide you will learn how to use the main area's of the program and useful features that have been added to it that can come in handy sometimes. Along with just being able to encode to
MPEG
files (
VCD
/
SVCD
/
DVD
) TMPGEnc is also able to output to AVI files. You will learn how to encode to AVI files with this guide, as well as how to use extra's like the Batch encoding tool, the MPEG tools, the filters included with TMPGEnc etc. If you are completely new to TMPGEnc, I advise that you read the
Basic TMPGEnc guide
first. It is important to remember that the freeware version of TMPGEnc has a limited MPEG-2 encoder. You can encode to MPEG-2 video for 30 days only, and after that you will have to buy the TMPGEnc Plus version. You can encode to MPEG-1 files for free forever though.
Introduction & Requirements
Well firstly you will need to download TMPGEnc from
here
.
TMPGEnc allows you to use an
external MP2 encoder
and an external
Sampling Frequency Converter.
For this reason this guide will show you how to setup
tooLame
as an external MP2 encoder and
SSRC
as an external Sampling Frequency converter. While this is not exactly fully required, it does produce better quality audio files.
It is important to explain how I like to write my guides. In this guide you will see a lot of terms either in bold text or you will see they are linked to another webpage. That link usually will either be a link to software downloads or a link to the
AfterDawn Glossary Section
to a term that I have used on the page that you might not be sure of.
You can encode files with TMPGEnc in several different ways, either by using the
Project Wizard
, using a
Template
, or manually changing settings yourself. These ways are covered in this guide. However, we will start by explaining the
main TMPGEnc Screen
and the
Options
. Launch TMPGEnc and if the Project Wizard should Pop-Up, just close it.