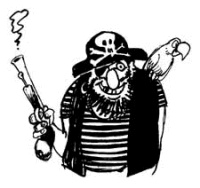 U.S. assistant secretary of commerce for market access and compliance, William Lash, has criticized
Malaysia's plans to curb enormous entertainment piracy by forcing publishers to lower prices
claiming that only way to curb piracy is to impose tougher penalties, such as prison sentences, for pirates.
Malaysia's minister for domestic trade and consumer affairs, Muhyiddin Yassin, has urged consumers to shy away from highly priced foreign movies and music in order to force the movie and recording industries to lower prices. According to him, Malaysian domestic movie releases are prices at around $2.50 and piracy for those titles is virtually non-existent, but for foreign releases that cost $8 or more
(VCD is de facto standard for original movies in Malaysia)
are the ones that get pirated.
Mr. Lash flew to Malaysian capital, Kuala Lumpur, to pressure Malaysian government to drop its idea to get the entertainment prices down. He said that the American business losses in Malaysia due piracy were down from 2001 figures of $316M to $242M in 2002, mostly due harder policy towards piracy. He called for prison sentences to professional pirates and more active role from Malaysian government in fight against piracy.
Mr. Yassin was quoted today to have said "What is suitable for us, we do that way."
Sources:

MSNBC #1
MSNBC #2