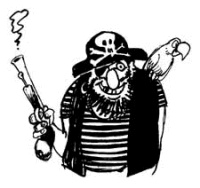 According to movie industry publication
Screen Daily
, Italy manages to top the chart for the highest level of movie piracy in a Western country. According to the magazine, the commercial black market for pirated videos and DVDs is worth approximately 30 percent of country's movie market.
Italy's legal DVD and video sales were worth €417M in 2003, but the pirate film market was worth €250M, according to Italy's anti-piracy watchdog
FAPAV
. Last year alone, over 300,000 illegal DVDs were seized in police raids across the country, but it is estimated that there are over 4 million pirated
(commercial piracy alone, not including the home-burned movies)
movies still in circulation.
Source: BBC