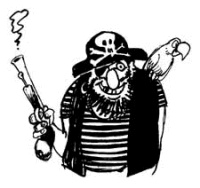 Man from Illinnois, U.S. has pleaded guilty to copyright infringement in Los Angeles court yesterday in so-called Oscar screener case. Russel Sprague, 51, distributed over 200 pirated movie copies, that he had made from screener tapes and DVDs, over the Internet. He got most of his movies from his friend, former actor Carmine Caridi.
The case was brought
against these two men in January
after
copies of four movies sent out to Academy members as screener tapes
were traced back to Caridi. Caridi stated that he didn't have any idea that Sprague intended to make copies of the movies, but claims instead that he thought Sprague was simply a big-time movie fan. Charges against Caridi were dropped, but he was kicked out of
Academy of Motion Picture Arts and Sciences
, the organization that hands out the annual Oscars.
Screeners are pre-release video or DVD copies of new movies that are sent out to press, movie reviewers, rental chains and people who are eligible to vote for Oscars and other movie industry awards.
Source: Guardian