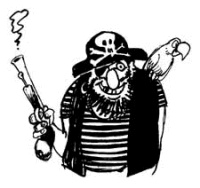 International piracy crackdown operation, codenamed
Operation Fastlink
, was launched yesterday in several countries including United States, Sweden, Germany, Israel, Hungary, Denmark and France. The operation was aimed against major piracy groups, including
Fairlight
,
APC
and
Project X
.
Over 120 searches were executed in 11 countries and over 100 individuals have been identified and over 200 computers have been seized by the investigation to date. The groups that were targeted were amongst the major release groups
(i.e. the teams that actually break the copy protections in software items in first place, get the screener copies of movies and make DVDR releases out of them, etc)
of pirated computer games, software and movies. Computer seizures have included 30 private FTP servers.
Even though the P2P networks have made pirated software items more accessible to general public, the role of piracy groups hasn't changed over the last 20 years and they are still the original sources of most pirated material in the world that eventually finds its way from private FTP servers and IRC channels to public P2P networks.
Source: United States Department of Justice