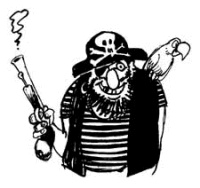 It is being reported on some news sites that some raids took place today against Internet
"warez"
groups. It has been confirmed so far that there was at least one arrest against a Fremont man.
Chirayu Patel
, 24, was arrested yesterday accused of setting up hardware and running a site for a group called
Boozers
; who are famous online for releasing pirated DVDR copies of movies. Apparently the
FBI
unmasked a number of piracy groups by making massive amounts of storage space available to them.
On these 2 servers provided by the FBI and 2 servers provided by "warez group members", 27TB of data appeared including movies like Star Wars Episode III: Revenge of the Sith just hours after their first theatre showings. Patel is alleged to have become a "Site Op" who used one of the undercover servers and uploaded loads of video games, architectural software and movies.

While now there are only a couple of news sources writing about it, the rumours have been buzzing around the Internet all morning with some details reaching us slowly. Apparently, raids were also targeted against the leaders of groups Centropy and TDA. Some other details that have come this way include the apparent nickname of one federal agent involved - Griffen.

An announcement by U.S. Attorney General Alberto Gonzales is expected today with details on the larger investigation. We will keep up to date as more details come clear.