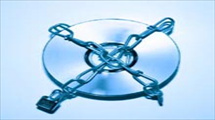 DVDs will soon be embedded with radio transmitter chips which will allow the major movie studios to remotely track individual discs as they travel from factories to retail shelves and to consumers' homes. The studios hope the technology, which can be used for
Blu-Ray
and
HD DVD
discs as well as normal DVDs, will prevent unlawful copying and pirating of their films.
The companies behind the new advance say living room DVD players will eventually be able to check on the chip embedded in a disc, and reject any discs which have been copied or played in the 'wrong' geographical region.
Ritek Corp.
, parent company of
U-tech Media
, which will manufacture the discs, is currently the world's largest DVD maker.
"This technology holds the potential to protect the intellectual property of music companies, film studios, gaming and software developers worldwide,"
claimed Ritek's chief exec.
Gordon Yeh
.
U-Tech, along with
IPICO
, the company behind the RFID chips to be used in the discs, confirmed on Friday that production of these new 'chipped' DVDs will begin at U-Tech's main plant in Taiwan. Once extensive testing is complete, home DVD players will be embedded with RFID readers to extend the anti-copying technology into homes as part of a
digital rights management (DRM)
system.
IPICO claims that its RFID tags can be read a minimum six metres away, and at a rate of thousands of tags per minute. The chips will not require a battery, as they'll be powered by the energy in radio waves from the RFID reader.
The president of IPICO,
Gordon Westwater
, added:
"[This is the] first step towards new international standards to safeguard optical media, and the subsequent adoption of the chip-on-disc concept as a global standard."
Could this new technology see a realistic end to optical disc piracy?
Source:
vnunet.com