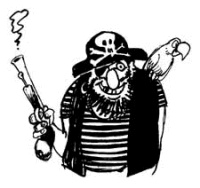 According to the results of nationwide survey released by the
Business Software Alliance (BSA)
, illegal downloading of copyrighted works by youths aged 8-18 is down 24 percent since 2004.
The survey, which was first conducted in 2004, showed that for this year, the percentage of participants who reported downloading software, music, movies or games without buying it was at 36 percent compared to the hefty 60 percent it was in 2004.
There were many reasons given by the youths as to why the illegal downloading stopped, but the most common were; fear of accidentally downloading a computer virus (62 percent), getting into legal trouble (52 percent) and accidentally downloading spyware (51 percent). 48 percent of the youths also reported they feared getting in trouble with their parents.


"This study indicates that parents represent a growing and effective influence on the online practices of youth,"
said Diane Smiroldo, vice president of public affairs for BSA.
"But, while decreases in downloading are encouraging over recent years, youth are still taking too many risks online. We hope that parents continue to take seriously their role in helping their children make the right choices online."
Some other results when compared to the 2004 and 2006 editions of the survey:
-Software piracy was down to 11 percent from double that in 2004.
-In 2007, 30 percent of youth admitted to downloading music without paying, compared to 32 percent in 2006 and 53 percent in 2004.
- Movie piracy was down to 8 percent, from double that in 2004.
Source:
aviransplace