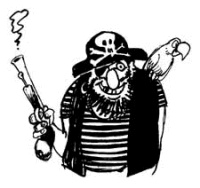 According to a new report by
Entertainment Media Research
, unauthorized music downloading is at an all-time high and the piracy is set to continue rising despite the legal efforts of the
RIAA
.
The report also stated that the group of consumers that are unconcerned with being sued for unauthorized downloads is growing.
The report, which was a poll of 1700 people, claims that 43% of the people now download unauthorized tracks, up 7% from 2006. Those scared of being sued due to their downloading dropped to 33% from 42% in 2006.
Stating what many have seen to be truth for a long time, the report noted that price was the key factor for the increased unauthorized downloading. As CD prices have fallen, the old perceived cost advantage of legal downloads has eroded. 84% of those polled agreed that differential pricing would help to increase sales. Older songs should be cheaper while newer, hotter singles can remain at a higher price.
John Enser, head of music at law firm Olswang, said:
"As illegal downloading hits an all-time high and consumers' fear of prosecution falls, the music industry must look for more ways to encourage the public to download music legally."
Of course the music industry association BPI, scared of a hit to their wallets, said that new business models would not lead to success but instead argued that better protection against piracy was the key. The specifically asked that ISPs do more to enforce copyright.
"Industry cannot do it alone,"
said a spokesman.
"ISPs as gatekeepers, and government as legislators, must also play an active role in tackling copyright theft if the UK is to thrive as a knowledge economy."
When will the industry open their eyes to the answers that are right in front of them and stop spending money on extra "protection"?
Source:
Guardian