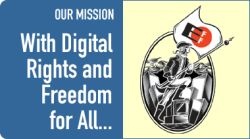 A legal storm is brewing between the
Electronic Frontier Foundation
and
Universal Music Group
over the right to sell CDs distributed for promotional purposes by music labels.
The dispute started when
Universal
sued Troy Augusto for selling CDs labeled "For Promotional Use Only". Augusto, with the backing of the
EFF
, filed a counter suit claiming that he has the right to sell them under the First Sale Doctrine.
The First Sale Doctrine is one of the most basic tenets of copyright law. It essentially states that the buyer of copyrighted material has the right to sell it later. The doctrine has been upheld repeatedly by various courts.
Universal's
lawyers argue that the principal doesn't apply here because they never offered the CDs for sale. Instead they're given away, primarily to radio stations, in an attempt to get public exposure through third parties.
Their claim is that what they're doing is distributing media, and not a selling a standard license like the one assumed for retail CDs. A statement from
UMG
indicates that they consider the CDs to be their property.
Their statement goes on to say
"this is not the first time that Mr. Augusto has been sued for this type of conduct. He was previously sued by Capitol Records and Virgin Records for the same thing and consented to a permanent injunction."
The
EFF
disagrees with this assessment, saying that
Universal
is trying to take away the First Sale Doctrine by simply labeling the product, which isn't a right they have as a copyright holder.
Regardless of which side prevails, the real issue could potentially be the wording of the judge's decision. A decision that doesn't specifically address both First Sale and the right of copyright holders to provide content under different licenses is likely to spark more lawsuits, and it's very likely that whichever side loses will appeal.
Sources:
Information Week
Digital Media Wire