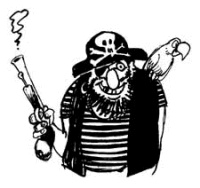 A new study from the
Institute for Policy Innovation
adds a new twist to music industry estimates on the cost of piracy, claiming piracy related costs to the economy of $12.5 Billion.
While past studies have focused on the assumption that each unauthorized download equates to a lost sale, this new study goes a step further and extrapolates losses to the entire US economy based on that assumption.
Along with the multibillion-dollar loss, piracy also is hindering job growth, according to the
IPI
. The US economy will lose 71,060 jobs due to piracy, with almost 38 percent of those (26,860) in the recording industry. That amounts to $2.7 billion in lost earnings. Piracy also hits Uncle Sam—as well as state and local governments—right in the pocketbook, with at least $422 million in lost tax revenues.
It essentially assumes that two of every three downloaded songs would have been purchased, were it not for file-sharing. This is a very high percentage and one not justified by our own knowledge of file-sharing trends. The study needs to make a firm argument for why this percentage is so high.
Given
IPI's
track record (which includes this gem from the aforementioned open-source study:
"Open source will go the way of other IT industry fads that were once trumpeted as the way of the future, like Macintosh computers, business AI, 4GL programming languages and Y2K"
) and ideological bent, the results of this study are rather unsurprising.
Source:
Ars Technica