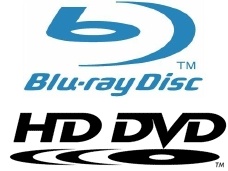 According to sales figures cited by Jodi Sally, Toshiba VP of Marketing of Digital A/V Products,
HD DVD
standalone players are once again out-selling
Blu-ray
units. She said that so far HD
DVD
players have outsold Blu-ray standalones by 50%.
The numbers, which only count standalone players have come under fire in the past for not counting PS3 game consoles as Blu-ray players. While there's some validity to the argument that the primary motivation for buying a PS3 is more likely about gaming, that doesn't mean owning one wouldn't influence a consumer to buy Blu-ray movies. However, it's estimated that only 20% of PS3 owners have played even a single Blu-ray disc on the console.
Toshiba claims that the number of people buying HD DVD PC drives are largely interested in hi-def content, and the lack of anything else that makes use of the media would tend to support that. They say this more than equals the number of PS3 Blu-ray customers. Sally said Toshiba expects 5 million HD DVD PC and laptop drives will be sold in 2008.
Commenting on Blu-ray's brief lead in standalone sales (not counting PS3s) during August and September after $499 Blu-ray players became available, she noted
"When new models hit stores there will be a surge in demand. There were some weeks where we lagged,"
said Sally.
"But overall HD DVD continues to dominate."
Source:
Video Business