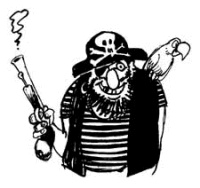 According to a
Verdict Research
report entitled "UK Music and Video Retailers 2007", legal digital downloads of both video and music rose 81 percent in the UK to 112 million pounds.
The report also predicted the market would grow to 163 million pounds by the end of the year and 600 million pounds by 2012. 600 million pounds would equate to 13.5 percent of the total music and video market.


"The percentage figures may fall some years, but the cash growth through the tills is big,"
said Mick Gladding, lead analyst at Verdict.


"It is a very exciting market, probably the most important influence in video and market retailing because it provides a very attractive method for customers.

"It is highly convenient to shop from home and is a low-cost way of delivering music to the customer from the retailers' point of view."
With new players like
Amazon
and
Nokia
joining the market, and the ever increasing
DRM-free
content,
Verdict Research
sees an added boost to the market coming, especially as the UK and the world move to be completely digital.
Source:
Yahoo