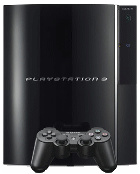 In its "HD World" newsletter,
Sony
has revealed that Europe will be seeing a new model of the
PlayStation 3
.
The newsletter implies that the European market will see a larger hard drive capacity model.
"In Western Europe by the end of 2008, "Understanding & Solutions" predicts average player prices (as opposed to entry level model pricing), for HD DVD and Blu-ray of $275 and $475 respectively, with the yet-to-be-launched European 80GB PS3 retailing at just over $500."
Currently, only the stripped down 40GB, and 60GB units are available in Europe. This brings fuel back to the ongoing rumors that the 60GB model will be phased out in favor of a larger capacity model.
A Sony Europe spokesperson did however, deny what the newsletter stated.
"The HD World newsletter is written by external sources, and the report quoted is from independent analysts. There is absolutely no 80GB version of the PS3 planned for Europe in 2008".
Source:
pocketlint