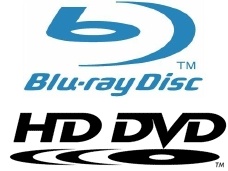 First reported by the Japanese public broadcaster NHK
and later
confirmed by Toshiba itself
, the next-gen format war between
HD DVD
and
Blu-ray
is finally over, with
Toshiba
planning on stopping production of
HD
DVD
players.
The battle, which has raged on for the last couple of years, has often been compared to the Betamax-VHS battle of the
MID
1980's and has slowed down the development of what movie studios hope will become a multi-billion dollar industry over the next decade.
The final blow to
HD DVD
and Toshiba took place yesterday when the mammoth retailer
Wal-Mart announced they would go
Blu-ray
exclusive beginning in June. Other recent news, such
as Best Buy and Netflix's decisions to support Blu-ray
must have also weighed heavily on Toshiba's decision.


"We have entered the final stage of planning to make our exit from the next generation DVD business,"
said a Toshiba source, who also added that an official announcement could come as early as next week.
We will keep you updated on any word from Microsoft, Paramount, or Universal as to this latest word from Toshiba but for now it seems that all that can be said is R.I.P HD DVD.